By Mackenzie MacDonald, Contributor
Students joined the Laurentian University Faculty Association (LUFA) on the picket lines on October 2, 2017, to show their solidarity and support for professors during the university's labor disruption.
Social work students Stephanie Brown and Christine Neilsen were the primary organizers behind the event. About 200 Laurentian students responded 'interested' to their Solidarity with Laurentian Profs Facebook event, and came out to show their support in numbers.
"We originally thought there would [only] be about 20-30 people [interested]," says Stephanie Brown. "We were shocked!"
Brown and Nielson explain that they came out to sit with their professors the first day of the strike, and noticed that there weren't as many students showing their support as they would have hoped.
"We decided at the end of that day that [we were] going to do something about this," they continue. "We created [the] Facebook event to try and encourage students to come out and support our professors, because [we felt] it [was] very important."
Nielsen says that there are many misconceptions surrounding the terms of the labor disruption.
"A lot of people think that the professors are out for bigger salaries, better pensions," Nielsen says. "We just wanted to correct that narrative and say this is not about them making more money; it's about them standing up for our education and making sure [that] there are policies [put in place] that aren't going to harm that."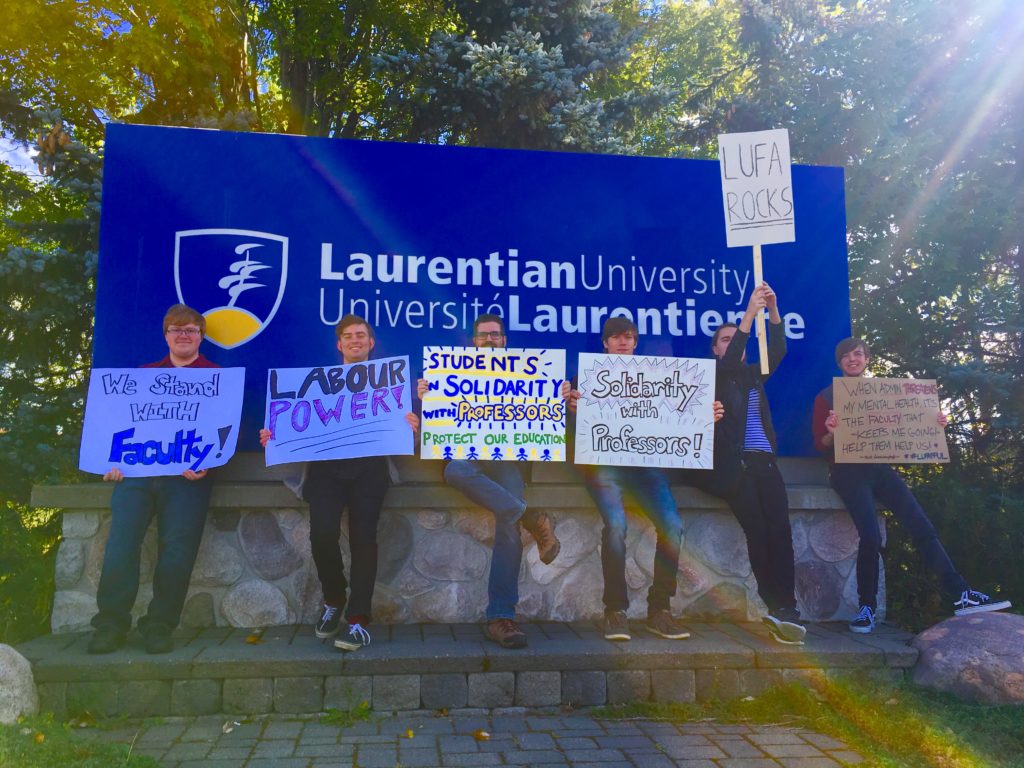 Carrington Ryan, a fourth-year social work student and President of Laurentian Social Work Student Council explains how the strike has restricted her from attending her placement, putting her behind as 400 hours are required in order to graduate.
"I think it's important because we really need to prove to the admin that we're willing to fight for our education," says Ryan. "We pay a hefty price for our education, so it's only fair."
"As for my social work career, I've been taught in school how to advocate for others and be a social activist, and I really think this is what it's all about. You can talk so much but you need to walk the walk as well; I think it's really important to prove to admin that it doesn't matter what field or program you're in, to prove that you're willing to fight for your rights."
"It gives us energy, it gives us hope, it gives us encouragement, and on a personal and professional level it makes me deeply, deeply proud." – Professor Karen McCauley
Assistant Professor to the School of Social Work, Karen McCauley, was also on the forefront of the picket lines, with her students standing by her side.
"We learn and we talk about activism, the importance of activism and the importance of taking stands," McCauley says. "To see my students here amongst so many others, it gives us energy, it gives us hope, it gives us encouragement, and on a personal and professional level it makes me deeply, deeply proud."
McCauley states that she has a "tremendous amount of respect and understanding for student's anxiety and stress."
"As a member of the bargaining team, we have not for a moment ever lost sight of that," she continues. "We really feel strongly that the kinds of things were fighting for are very good for students, and in the long run when we all get back together, that this will be a better place for all of us."
"What I respect and what I admire is people taking stands that they believe in and feeling that their voice matters," McCauley says. "It's very empowering for all of us."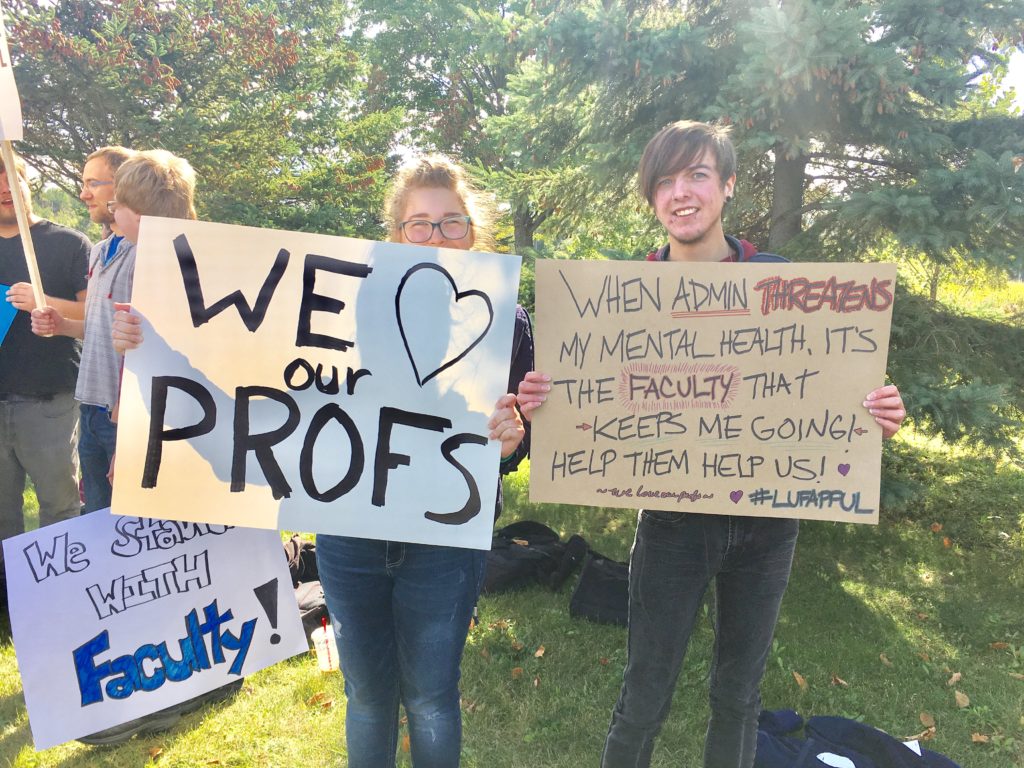 Laurentian's social work students were certainly not the only ones advocating for their right to education and exhibiting their solidarity with Laurentian faculty.
"Regardless of whether or not you support the faculty going on strike, you have to support and respect the right that the faculty has to go on strike," says Jake Raby, a fourth-year commerce student.
"I think that the administration needs to consider the long-term effects, especially because Laurentian is so dependent on international students," says Dave Nicks, an English rhetoric and media studies student.
"Any suspension of classes whatsoever is going to cause major damage; it's going to cause ripples," he continues. "They need to be able to respect the wellbeing of the students and the faculty at the same time, especially if they're asking for that kind of a course load. It's interference with academic freedom, and it's reprehensible."
Ryan Wildgoose, a Humanities PHD student, voices his admiration for faculty members.
"Our faculty go above and beyond for us as students and I think it's about time we go above and beyond for them to show that we appreciate everything that they do for us on a daily basis," he says.
Political science student Evan Elliot conveys the importance of this solidarity despite personal or political opinions. "I think it's important to support the teachers strike because first and foremost, this is about securing us a better education," he says.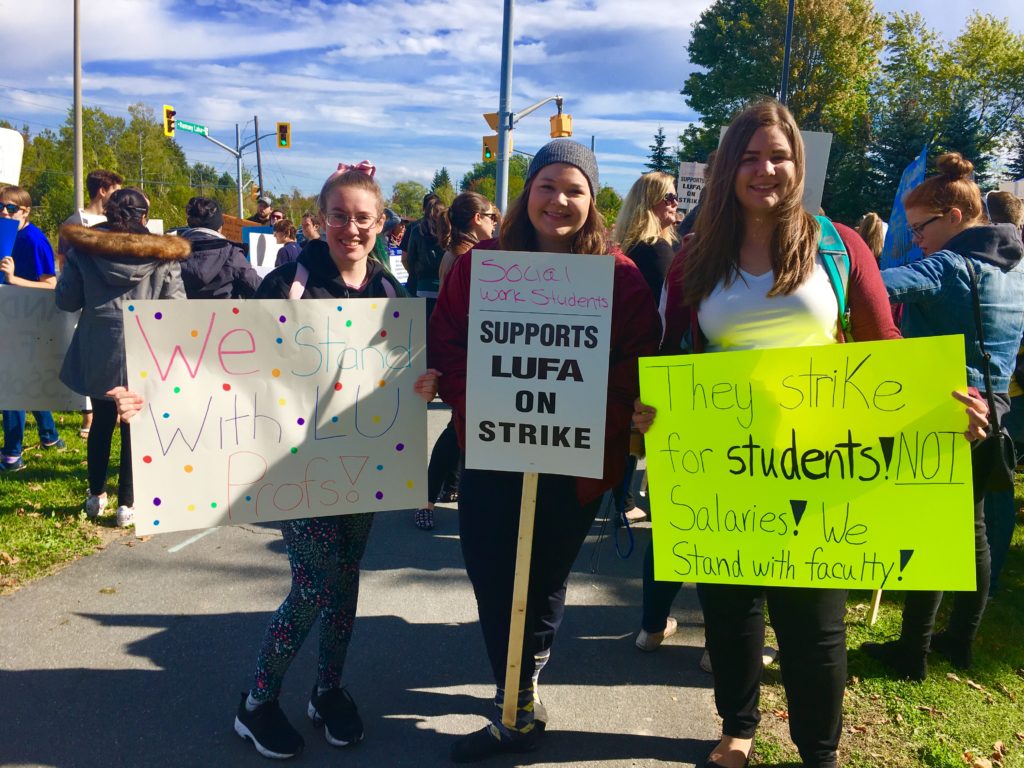 While it's evident that students are willing to stand side by side with Laurentian's faculty members in order to show their support and appreciation for the protection of their education, they also hope LUFA's labor disruption doesn't continue too much longer.
"We honestly just want a good education and we don't want our professors to be overworked, and they are overworked," explains Stephanie Brown. "They want to be able to provide us with quality education, and that is important for our future. Our learning environment is their working environment."
The Lambda will continue to post updates on the strike as it unfolds at thelambda.ca.