By Jessica Robinson, EIC
Another day, another eight-figure investment in Laurentian's innovative advancements in science and technology. As the speakers at today's major infrastructure announcement all joked, these multi-million dollar donations have practically become the norm at LU.
This time, Laurentian staff and students can look forward to a Research, Innovation, and Engineering Centre, a 47, 000 square foot building extended off the pre-existing Science buildings with a projected completion date of March 2018. The building be three floors of collaborative research and development space, a prototype development and machine shop, four capstone innovation labs, and more.
This has not just been an effort by Laurentian, but by the Greater Sudbury community at large as well. The idea is to encourage students that come to Laurentian to study to put down roots in Northern Ontario. They want to establish meaningful and sustainable job and wealth creation; students who get this kind of technological exposure will be more inclined to stay and work past their initial degree.
As Stephane Labine, a third-year Mechanical Engineering student at Laurentian who was an integral part of the core team working on this project, stated, "With these facilities, we'll only be limited by our creativity."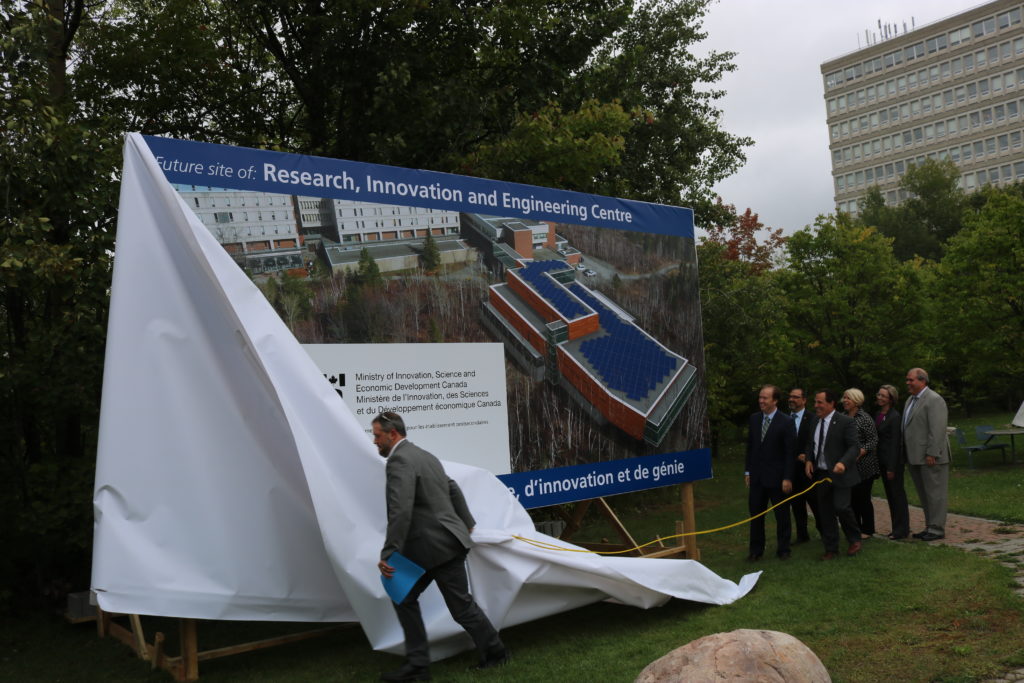 To support Laurentian's move towards becoming the research and innovation hub of the country, the federal government donated $21M to the Research, Innovation, and Engineering Centre to be built here on campus. The Provincial government then donated an additional $6M, bringing the total to an incredible $27M investment.
"I'm new in the role as the Minister [of Advanced Education], and I really wanted to see what's happening in Sudbury, because I've heard so much about the great innovation, the world-class research that's happening here. I'm just absolutely delighted to be here; I'm learning so much," said Deputy Premier Deb Matthews. "Laurentian has really demonstrated its leadership in a range of areas, but particularly mining is the one that stands out. And that's perfect, because it's such a big part of the economy here, and the economy in the province. And so to have the leading research and technology right here is fantastic."
"It's also great for Northern communities," Minister Matthews added. "We heard a lot about how when people come here, they stay here. They work and contribute and bring their families. And that's great, too."
Other government officials in attendance included Members of Parliament Marc Serré and Paul Lefebvre, and Energy Minister and Sudbury Member of Provincial Parliament Glenn Thibeault.