by Erica Scoville, Reporter
Social Work student Hediyeh Karimian, Law and Justice student Litha Ncansia, and Health Promotion student Kadre Gray have come together to bring humanity, equity and justice to the Laurentian University campus. Their student group U.L.U. is in its beginning stages, but that's not to say they haven't already made an impact on our campus.
U.L.U. stands for  Ultuntu (humanity), Lunginsa (justice) and Usawa (equity). Their name comes from the African language Swahili,  as well as two South African Languages Xhosa and Ndebele.
"Initially our idea was that we would be able to talk about racism, black history, and what experiences people of colour go through— particularly at academic institutions," Karimian said. "Even as young children in elementary school, books aren't designed to represent kids of colour. There is that social construct, and that [social construct] carries onto the university level."
But the group's first official initiative came in response to the postering campaign Laurentian University was faced with in late October. Signs stating "It's okay to be white" were reported around campus.
Karimian explained the process of contacting administration and the response the group initially received.
"We contacted the administration saying 'Hey, what are you guys doing about this? Because you didn't put out a statement, you didn't do anything.' And you know, the answer back was like 'We don't want to give advertisement to the group that's doing this,'" Karimian said.
"For us, it's just a lot of bureaucracy and people don't want to admit that this is in fact happening on our campus because if you admit to it, you have to do something about it."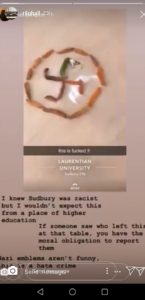 Karimian also referenced March 11 incident in the Great Hall where someone arranged cafeteria food into the shape of a swastika.
"So again, we sent that over to administration and they said 'We're going to do an investigation and the Sudbury Police are going to get involved,' but what does that look like?"
"This week we still haven't heard anything about it, so a lot of the students of color who first had saw that, they're kind of wondering, are we safe on this campus? There's a lot of insidious things that happen and we just hide it. It's a systemic issue," she said.
[Note: Laurentian's Department of Campus Safety emailed a statement to students on March 21 confirming the swastika, as well as asking for assistance from the community in identifying the person responsible]
In an email to Lambda, Alex Freedman, Chief of Staff at Laurentian, said Laurentian is not immune to acts of racism.
"Recently someone crafted a hate symbol out of candy and left it on a table in the cafeteria," Freedman said. "Hate symbols or any other forms of racism are not welcome at Laurentian University and we reported the incident to police."
Freedman said that this investigation is still ongoing. Freedman also included that any future incidents involving "hatred" and "intimidation" will continue to be reported to police.
"Everyone at Laurentian has the right to feel safe in all aspects of campus, and we all have a role to play," Freedman said.
"We appreciate the meetings the executive team has had with Ms. Karimian and the work she is doing with the university to make this a safer place."
"Under the Okanagan Charter all policies and procedures at Laurentian University will be evaluated for possible systemic bias," Freedman said.
Symposium cancelled, president 'ambushed'
Karimian and a few other students had planned an anti-racism symposium, but it ultimately had to be cancelled.
"In November after the 'It's Okay to be White' posters we told [administration] that students of colour don't feel like they have a place they can go to [talk about these things safely]," Karimian said.
"We were told to go to the Equity, Diversity and Human Rights office and that they [would offer us] support, and that in fact [they] have this guy who works there who is black, and he'll help you develop an anti-racism workshop, and he did."
"He developed the first ever anti-racism workshop at Laurentian. He was helping us to host the symposium and was [even] going to be one of our guest speakers. We had community speakers, we had the city involved and everything."
Karimian said that this employee was recently let go by the university. The U.L.U. was left wondering who was going to help with their symposium. With that came another meeting with the president.
"We ended up getting like 40 people to come…and we basically ambushed [the president's] office. We got in there and he's like 'Uh, Hediyeh,  I was only expecting five of you,' and I'm like, 'It's not fair for me to tell everyone's story, I think you need to hear everybody else's story.'"
Karimian said that in the senate room, students discussed their experiences with racism at the university.
Since then, U.L.U. has been presenting to different students and staff on campus.
"They have been so powerful. The students were so engaged, and a lot of students reached out to us afterwards talking about how great it was for them to learn how to be an ally. I think too, a lot of [students of colour] don't know if they're safe but they don't know where they can go and openly say that, but now, based on the work we've been doing, students are coming to us."
Freedman added that the "Safe Place to Learn and Work" Presidential Task Force will be preparing "critical projects that address racism and ensure Laurentian's campus is safe and welcoming for everyone."
"Other groups are helping in positive ways to create appreciation for the diversity present on campus," Freedman said.
These groups include Laurentian University African and Carribean Students Association (LUACSA), the Race, Racism and Equity Reading Group, Pride Laurentian, and Indigenous Affairs.
"Everyone should feel safe on campus and it is up to all of us to make sure that is the case."
Still in the beginning stages of development, U.L.U. has been applying for grants from the federal government, as they are trying to endorse more anti-racism work within different institutions, Karimian said.
They are now in the process of getting more students involved.
"You don't have to be black. You can be white and want to do this because you want to be an ally," she said. "If there are students who need a resource, email us. We assure confidentiality and we can guide you to the right people. If you want to join, if you need help, if you feel like there's no one you can go to, send us an email. There is a community here that wants to walk with you."
"The university experience is supposed to be a fun one, not one where you feel alone, scared and isolated."
Students in need of support, or with interest in joining this student group are encouraged to email U.L.U. at uluntu2019@gmail.com.
There are on-campus resources and supports available for anyone who feels unsafe.
For immediate concerns Laurentian University Campus Security can be reached at (705)673-6562.
The Equity, Diversity and Human Rights Office is located at A-126 in the Arts Building or can be emailed at edhr@laurentian.ca.
Counselling Services is located at P-230 in the Parker Building or can be emailed at counselling@laurentian.ca.
[Clarification: An earlier version of this story said Swahili was spoken by 70 per cent of African countries. According to the Stanford Language Centre, Swahili is estimated to be spoken by between 50-150 million people world wide, though estimates vary between sources. More information on Swahili is available at Ethnologue.]