By Alanna Scully, contributor
Laurentian's men's and women's cross country teams ended their seasons at provincials and nationals, respectively, giving coaches and teammates high hopes for the coming season.
On October 28, both the men's and women's cross country teams traveled to University of Windsor to compete in the OUA Championship. This was the qualifying meet to move on to the USports National Cross Country Running Championship, which took place in Victoria, British Columbia on November 12, 2017.
The OUA Championship saw 14 university teams along with two incomplete teams from across Ontario compete in both the men's and women's division; from those teams the top 7 qualify for the USports Championships.
Laurentians women's team had a strong showing over the 8 km course, with their three fastest runners finishing in the top 23. Lead by Jenny Bottomley, who placed 18th with a time of 29:17, the team pulled off a fifth place overall finish. Bottomley was closely followed by teammates Heidi Tuszkiewicz, Megan Crocker, Nicole Rich, and Jessie Nusselder, who came in 20th, 23rd, 33rd and 37th respectively. The team displacers were two rookies, Nicole Sartor and Meghan Sippel, who placed 48th and 58th respectively.
With these finishing places and times, the team qualified for nationals.
"Jenny and Heidi put themselves in the lead pack with a group of elite athletes for the first of three laps," said associate head coach, Darren Jermyn. "They dropped a bit after a surge in the second lap, but then hung tough until the end of the race."
"Megan Crocker started more conservatively, but just got stronger with every lap," he said. "The other women ran tremendous races as well. All in all, it was an exciting performance."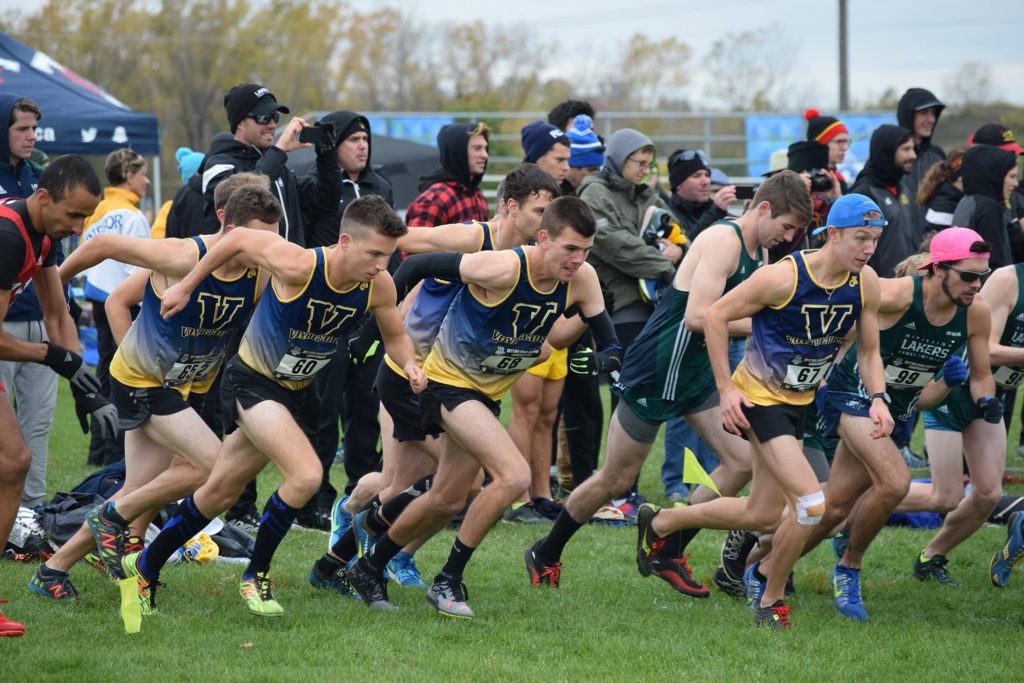 The men's team raced with great determination; 6 of the 7 team members ran personal best times. Rookie Paul Sagriff led the men's team to an 8th place finish over the 10 km course, coming in 28th with a time of 31:46. He was followed close behind by Liam Passi, Caleb Beland, Sam Delage, and Jarod Milford, who were 34th, 51st, 63rd, and 66th respectively. The team displacers for the men were Gordie Chown, at 76th, and Jordan Burkitt, who placed 78th.
"The men have made remarkable progress since their return three years ago," said head coach, Dick Moss. "Their team average today was 33:17 for the 10km, and they've improved by almost a minute every season. Today, they were only three points from qualifying for nationals. And they know how to race hard when it counts. Almost all of them ran personal bests over a hard course today."
As the women qualified for the USports National Championship in Victoria, they had two weeks to recover and squeeze in a couple more workouts before traveling to British Columbia. Their National race took place on November 12, in very unfavourable weather.
Despite the pouring rain, the ladies gave their best efforts and pulled off a team finish of 15th place out of a field of 23 teams and 8 partial teams. The team was once again lead by athlete Jenny Bottomley, who raced at 30:40 over the 8km course resulting in a 47th place finish. Megan Crocker, Heidi Tuszkiewicz, Nicole Rich, and Meghan Sippel followed in 56th, 74th, 103rd, and 109th respectively, along with team displacer Nicole Sartor who finished in 127th.
"It wasn't the finish to the season we were hoping for," said Moss. "One of our runners contracted food poisoning the night before but still raced, and another passed out on the course, so you know they were giving it their all. But that said, nobody was really sharp."
"We ran exceptionally well up until the OUA's, then to limped into Nationals, so we'll be doing some careful analysis of the season for next year," he said. "We definitely intend to be back at Nats next year – with both the men and the women. Almost everybody will be return from both teams and we have some promising rookies who now have a year of seasoning."
At the end of the season, Laurentians Women's team finishes with a 40/26 win/loss record. while the men's team finishes with a 22/28 win/loss record. After successful, and eventful seasons for both the men's and women's cross country teams, they will rest for a couple weeks before beginning preparations for the upcoming indoor track season.