By: Carolina Keen, Contributor
Laurentian University's Sports Administration program held its inaugural Northern Sports Industry Conference this past month.
The conference hosted delegates from Laurentian and high schools across the province, as well as a long list of industry professionals who traveled to Sudbury to share their knowledge.
Founded in 1972, the SPAD program has developed a strong network of alumni who have made a lasting impact on the sports business industry. SPAD is represented in every major sport league, including the NFL, MLB, NHL, NBA, and MLS. The program continues to improve its curriculum and mould future sport industry leaders through experiential and practical learning.
As a part of SPAD's commitment to experiential learning, third year students take part in an event management course designed to teach students how to organize, fund, and operate events. For this class, seven students took it upon themselves to organize the Northern Sports Industry Conference.
"Some of these students are student leaders who would go off to conferences at other universities, and they would always come back and talk about the speakers, and they'd say, why don't we have a conference?" said Dr. Anthony Church, Program Director of SPAD.
"So I said, if you want something like that, do something about it. And here we are six months later. Be careful when you challenge SPAD students."
The three-day event gave students the opportunity to network with other delegates and speakers, focusing on breaking into the sports industry.
"The opportunity to be part of the first Northern Sports Industry Conference was phenomenal. To be able to network and learn from alumni, and experience what the sports industry will look like in the future, was more than we could ever ask for," said Amanda Mullins, the conference's Director of Content.
The first night saw a number of presenters welcoming delegates and speakers to Sudbury, including the city's MP Paul Lefebvre, Paul Schweyer who spoke briefly on the 2021 Canada Games, SGA President Kraymr Grenke, and SPAD director Dr. Anthony Church.
Geoff Beattie, CEO of Generation Capital, and Amanda Lang, Canadian journalist and host of Bloomberg North, took the stage at the Holiday Inn as the weekend's first keynote speakers.
The pair stressed the importance of creating and maintaining relationships, and the benefits of having a mentor. Lang's approach to mentorship was centered on the golden rule. "If I want people to treat me like that, I should behave like that," he said.
The Canadian Football League's Brodie Lawson stepped up next to speak about the uncertainty of the sport industry and the need to embrace it. The Western University graduate went through cycles of contracted employment and unemployment before landing her job at the CFL.
"I felt like such a failure not having a full time job and being unemployed, on not one, but two separate occasions," Lawson said. "[But] that path gave me all of the skills I needed to get the job I wanted. It also made me a little bit braver and a whole lot tougher."
"Uncertainty does not mean failure," Lawson stressed.
Panels and a case competition presented by Rogers Communications filled much of the rest of the weekend.
The panel on International Sports and Sponsorship looked at the challenges of international sport competitions and the globalization of sport.
"Everyone's path will be different," said Andrew Baker, Director of Games at the Canadian Olympic Committee. "Generally I would say regardless of where you want to work, be a good person, really be a good employee. Work extremely hard. But I think the biggest thing is to find something you're passionate about."
The Leaders in Sport panel highlighted the current trends in the sports industry.
"I think in terms of hockey and the OHL, the trend now is in analytics. You see NHL teams investing heavily in their analytics departments," said Sudbury Wolves President, Blaine Smith. "I think knowing how to analyze spread sheets and do research has become part of every manager's job."
Delegates then had the opportunity to participate in a case competition based on the marketing of the Rogers Cup in Montreal. Delegates developed a range of ideas from scavenger hunts to hashtags and presented their solutions to a group of speakers that judged the teams. Judges provided constructive criticism and encouraged students to really think about the market they're in, stressing the importance of knowing the cultural climate you are marketing to.
On day three, the conference consisted of three breakout sessions and a third panel about Breaking into the Industry.
Brock McGillis spoke to delegates about equality in sport and his experiences as an LGBTQ+ athlete. He emphasized the importance of engaging and educating people in concepts of equality and awareness, and the need for the sport world to be a more open and accepting environment.
J.P. Rains discussed the importance of personal branding, from social media to search engine optimization. The digital strategist spoke on the importance of differentiating yourself and being an expert in your field. "When no one exists in a space, become the expert," he said.
In the third and final breakout session, Joey Abrams spoke about the importance of hard work and education. He noted that self-awareness is vital to your success in the industry. "Entitlement is a disease and anyone can catch it," Abrams warned.
A number of recent SPAD grads spoke about their internships as stepping-stones, and the importance of continuing hard work even after your internship. "Initiative doesn't stop once you get your foot in the door," said Andrew Vani, Coordinator, Corporate Partnerships at MLSE.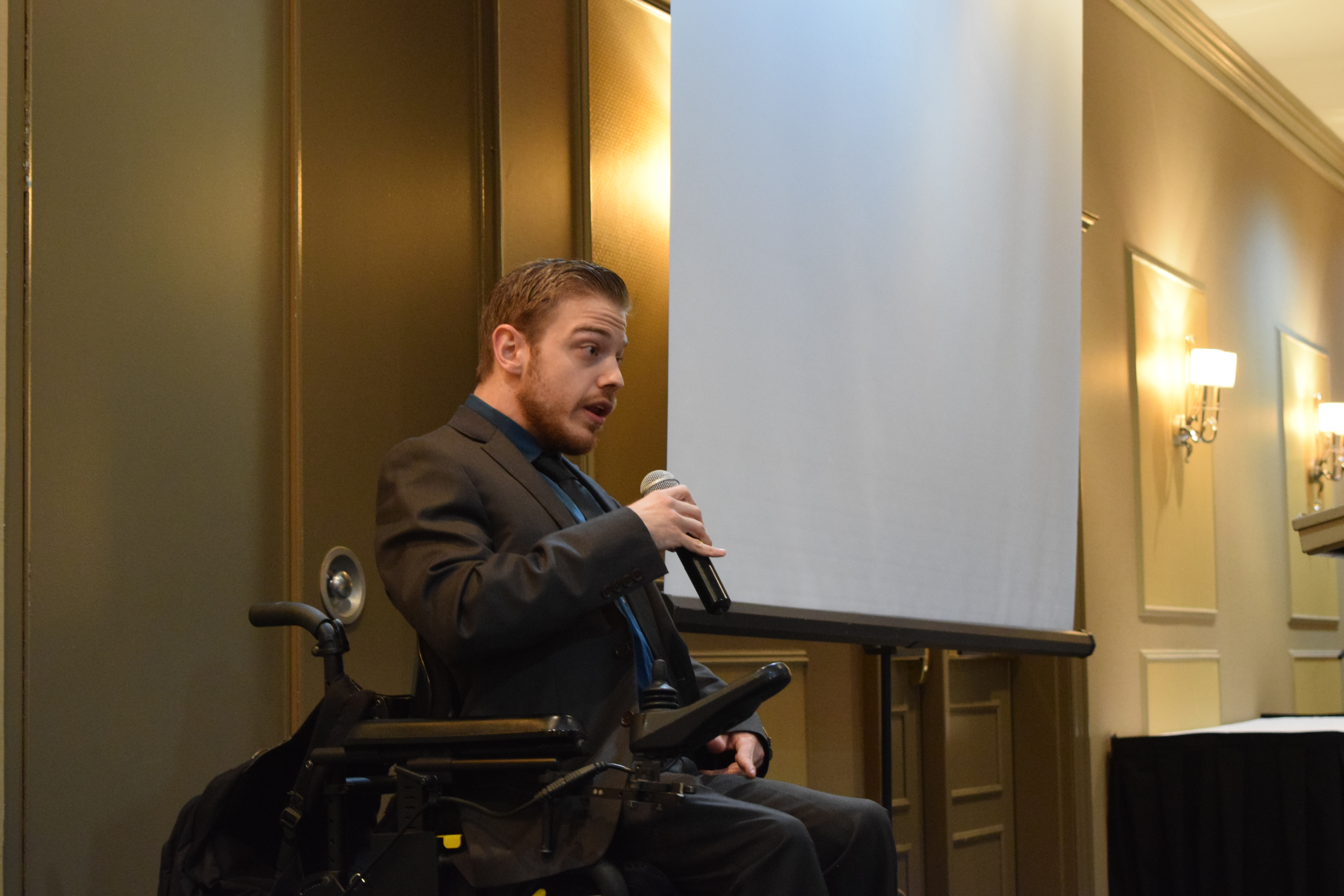 To conclude the conference, SPAD grad and founder of Positive Inception, Ryan Benoit, spoke about the importance of believing in yourself and being your own advocate.
"The only person that's going to stop you from doing something is you," Benoit said. "What's the worst thing that could happen?"
The conference displayed the SPAD program and students as global leaders in the sports industry, depicting the strength of its alumni network and the promise of its current students.
"I think the conference was a perfect representation of the SPAD Program. Most importantly, it showed just how willing the SPAD alumni network is willing to give back, and how much they care about continuing on the success of the SPAD brand in the sports industry," said Neal Steven, conference delegate and SPAD's Student President for the 2015-2016 year.
"There was a great mix of past and recent alumni, along with industry professionals, who were not SPAD alumni but knew of the SPAD brand and were willing to give their time and come to the conference."
"I am most proud of how the team came together and produced something with no framework. To create something with this much potential going forward is incredible," said Joshua Bousada, NSIC's Director of Marketing.
"From an organizers point of view, I learned it takes an immense amount of time to organize an event, however the result is irreplaceable and absolutely worth it."
"I couldn't be more proud of the NSIC team that brought an idea to a reality," added Roberto Bagnato, Co-Chair and current SPAD President. "The conference has been something talked about in the SPAD program since its inception. We couldn't be happier to have got the ball rolling and are excited to attend the conference for many years to come!"
Photos taken by Carolina Keen.