Just two hours before the Laurentian Voyageurs men's and women's basketball teams will take to the court for this season's home opener games, the school sent out a statement to the Laurentian community via email regarding recent players' suspensions.
The email (in full below) explains that the players will be suspended "until after the new year". It also notes that the school will be unable to comment further "out of respect for the privacy of people involved". This official decision follows the in-camera Committee of Inquiry held last Friday.
The email reads as follows:
"Dear members of the Laurentian community,
As you may be aware, members of the men's basketball team have been suspended for their roles in an off-campus, unsanctioned team event. While this event has not brought about any complaints, the players have taken full responsibility for their behaviour, and would like to share the following statement:
"We acknowledge that our behaviour as leaders on our team and our campus was inappropriate. For this we are deeply sorry. We accept the discipline that has been imposed on us by virtue of our actions as being fair and reasonable. We will not all be rejoining our teammates until after the new year, but look forward to cheering them on in the intervening period. Our commitment to our campus, our fellow students, our teammates, and our community is that we will continue to learn from this, and that we will be leaders in fostering a positive, respectful culture on campus and in the community."
The University and the players will not comment further nor share further details out of respect for the privacy of the people involved."
The LU Voyageurs website has been updated, with the suspended players reinstated on the 2016-17 roster, implying the players will be back on the court with the rest of the team at some point this academic year.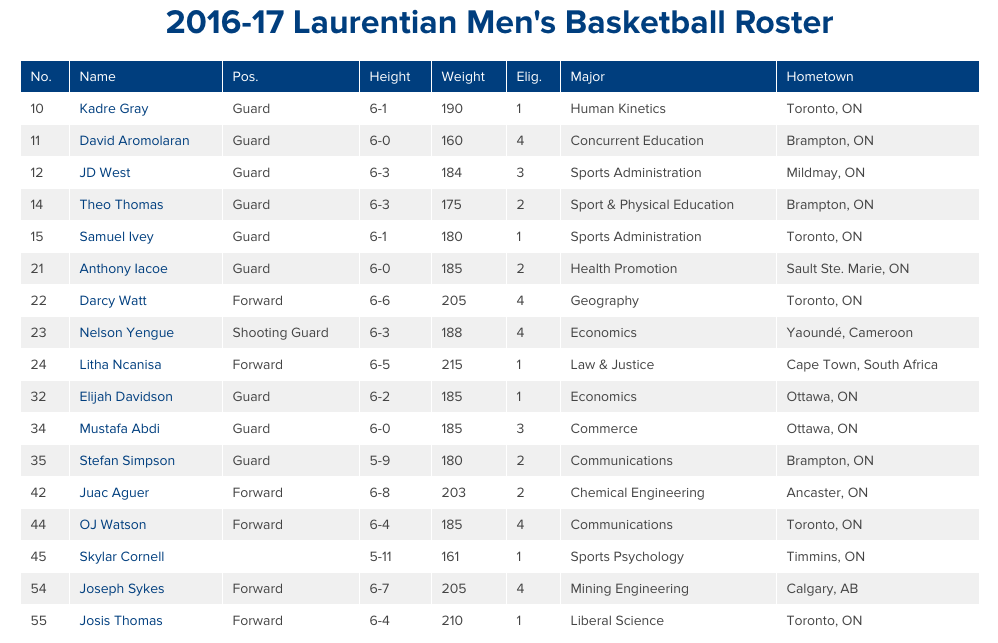 Both the men's and women's basketball teams play Western tonight, and Windsor tomorrow in the back-to-back home opener games.