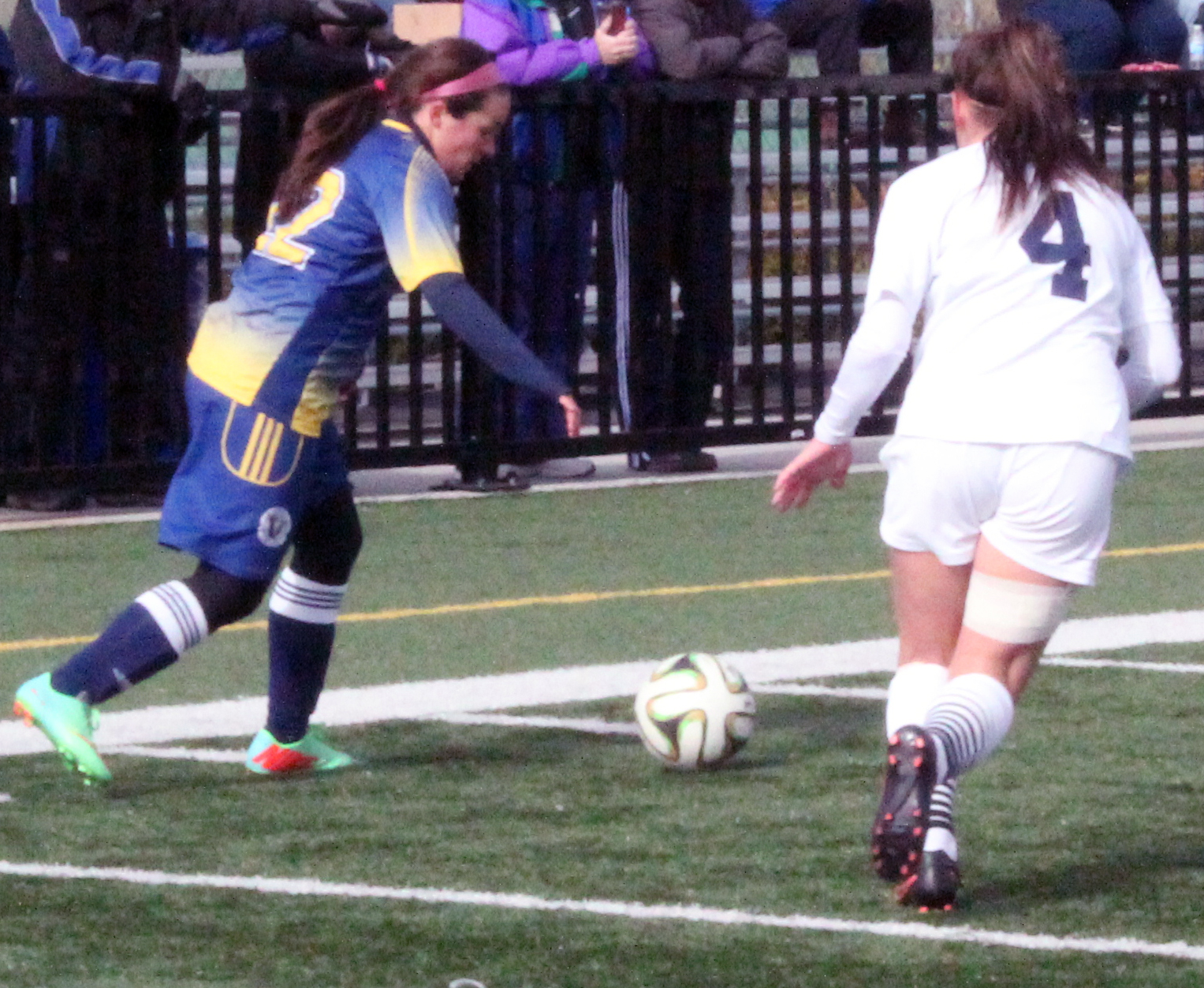 By Jessica Robinson
The Laurentian women's soccer team recently wrapped up their season, having made it through to the first round of playoffs.
The team traveled to Toronto to face U of T's Varsity Blues on Oct. 22 and lost 2-0, ending their run.
"[U of T] didn't really get any shots on net that caused us a lot of grief, but they ended up getting a corner kick goal and a free kick goal, and in the end that was where things happened," commented Coach Rob Gallo on what cost the Voyageurs the playoff game. "We had some issues trying to deal with their midfield, we couldn't generate any offense, and we couldn't get any balls from the midfield into the forward positions to create problems for U of T."
The game of course had its high points; the team played a strong defensive game, as they have throughout the season.
"The back four of Megan Gallo, Allison Pilon, Madison Beaudry, and Heather Gilbert were outstanding [on Wednesday night] in preventing Toronto from any real penetration behind our back line," Coach praised. "They were excellent in all of their tackles, in winning possession of the ball, battling and just ensuring that Toronto didn't get a lot of chances."
"The good news is that at times we had six or seven first and second years playing in that game, so they gained valuable experience to carry with them the next couple years," he continued. "You can't buy that."
There are a handful of moments and players alike that stood out this year.
"I think last Saturday's game against Ryerson was probably our highlight of the year. We had a must win situation and the girls came through in a big way winning that game," Coach Gallo mused. "Allison Pilon is a rookie who stepped right into the center-back position, a tough position, and she's been phenomenal all year. Megan Gallo as well; this is her first year [playing for the Voyageurs], and she was probably our best player on the field against U of T [on Wednesday]."
This year, the team's focal point was development, of which Coach Gallo reports there has been leaps and bounds. As for next year's season, the team's goals consist of climbing towards a home playoff spot, saying "if you're home for playoffs, you can control how that day's going to happen," explains Coach Gallo.
He listed the team's objectives in the upcoming year to be qualifying for playoffs again, and ranking higher in the standings to hopefully get a home playoff game, as well as lowering their own goals against by at least half while producing a lot more goals against those ranked higher up in their division.
Coach Gallo says he's looking forward to working with the team in the future. "Overall, we have a really good group of young women; especially that group of 16 first and second years. It'll be interesting to see how they develop over the next couple of years."